In 10 years of development and 5 major versions, Gran Turismo is the preeminent driving simulator available today with millions of copies sold. Gran Turismo is heralded by driving enthusiasts, professional drivers, and the driving press for it's accurate depiction of driving physics, car personality, and real world courses – both closed and street. The driving physics are accurate without being overly demanding and Gran Turismo is not bogged down with drama based plot lines or phony crash effects. It's success is due largely to it's commitment to faithfully reproduce a historically accurate rendering of automotive history and achievement.

Gran Turismo is a car lovers dream. Hundreds of cars are faithfully reproduced for your enjoyment. Gran Turismo lets you build a private garage, field a race team, attend racing courses, or simply go head to head against the computer or other drivers. 100 years of automobile manufacturing from builders all over the globe is represented including production cars, customs, tuner cars, prototypes, race cars – even futuristic designer concepts.

Gran Turismo is really two universes in one. As a driving simulator, you can experience literally hundreds of road cars in a wide variety of situations. You can pick a classic car with a casual pace and relax into a drive on your favorite course, or you can call up a supercar for a wild romp - speed limit free. But Gran Turismo is also a racing simulator packed with race cars from every genre. With grippy race tires, ultra light chassis, and power to spare you can see for yourself the effects of down force on high speed corning - and much much more. No matter what your mood or skill level, there's dozens of cars for you to enjoy every time you sit down.

Gran Turismo is also a repository of some of the world's finest race and street courses. All 13 miles of the Nürburgring Nordschleife , the Le Mans course, Infineon Raceway and Laguna Seca... There's Times Square in New York, sections of downtown Tokyo and San Francisco, ancient towns in Italy and more. The tracks are so accurately produced, you'll actually turn real world lap times and come to know the nuance of the racing line. Professional drivers do.

If you already own a PlayStation 2, you can easily step right into Gran Turismo 4 and have plenty of room in your budget to pick up a quality force feedback driving wheel from Logitech (The Logitech wheels are designed in conjunction with Gran Turismo and the quality is superb). If you are new to driving simulation, consider going all out with a PlayStation 3 and Gran Turismo 5 Prologue (full version coming in 2010). Either way, you're in for a level of entertainment you may have not realized possible in your home game room.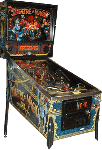 Theatre of Magic
Modern Masterpiece